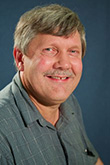 Congratulations to OIO Director of Production and Lighting Designer Richard Dunham on being inducted this morning as a USITT Fellow at the 2017 annual conference! This is a tremendous professional honor. Bravo, Rich!!
Rich Dunham is the epitome of the USITT member who deserves recognition for professional accomplishments and active, ongoing contributions to the work of the Institute.
His leadership of the Grants & Fellowships Committee has resulted in expansion of opportunities to serve our members. Rich's work as Chair of the triennial Art Auction has resulted in additional revenue to support Grants & Fellowships.
He is a superb leader able to organize important projects, and his work produces consistent results. He is recognized as a gifted lighting designer, professor, and head of design at the University of Georgia and author of a significant text and reference book, Stage Lighting: Fundamentals and Applications.
He has had a number of articles in TD&T, is an active contributor to USITT publications in a variety of ways, and is a recognized national judge for student awards. His professional accomplishments include on-going lighting design for a variety of regional theatre and opera companies.